The 1958 Gibson Explorer, first introduced alongside the Flying V, was a groundbreaking instrument for its time. It blazed new territory in guitar design, surpassing every other design in its category. The Explorer was a hit with artists of all genres and is considered a true classic in the guitar world.
Table of Contents
1958 Gibson Explorer or Flying V prototype
The 1958 Gibson Explorer, also known as the Flying V prototype, is a rare electric guitar. It was designed by Gibson President Ted McCarty and was produced only a few years before being discontinued. It was distinguished by its unique angular shape and two PAF humbucking pickups. It also featured a shared tone control. A Flying V is very difficult to find and is a very collectible guitar.
In the late 1950s, Gibson sought to create a guitar that would stand out in a crowd. They wanted a guitar that matched the modern aesthetic of the mid-century design. They were also seeking a lighter color for the body, with minimal trim and a low profile. The result was the Explorer, which Gibson called a modernistic guitar.
The Flying V was discontinued after the 1958 model but was reintroduced in the 1970s. The Flying V was redesigned and made of mahogany. While it is not as collectible as the Korina 1958/59 models, it is still a rare and collectible guitar. Flying Vs are very sought after and can be worth thousands of dollars. However, the original runs are very rare and are usually valued at half a million dollars.
The Flying V model was first used by Albert King and Lonnie Mack. Mack referred to his Flying V as the "Number 7" guitar and used it exclusively. Mack continued to use the guitar until the mid-70s. Other notable users of the Flying V guitar include Dave Davies, who wanted a guitar that would stand out and produce a powerful tone. The Flying V model's popularity prompted Gibson to reissue it.
In 1958, the Flying V prototype was likely used to test out the design of the Explorer. This would provide McCarty with valuable feedback from Gibson dealers. The results would determine the production of the instrument. Although the Explorer did fairly well in sales, the Moderne did not fare as well.
What are PAF Humbucking Pickups
PAF humbucking pickups were introduced into guitars in the mid-1950s by Seth/Gibson. They were first added to console steel guitars and later to electric solid-body and arch-top guitars.
The first model to receive these pickups was the ES-175 electric solid-body guitar. PAF pickups came in two variants: the pre-decal PAFs and the post-decal PAFs.
The pre-decal PAFs were unlabeled, while the late 1957 models had a small black decal with gold lettering. The decal read "PATENTED FOR".
Virgil Arlo PAF Humbuckers
The Virgil Arlo PAF Humbucker Pickups are some of the best PAF humbuckers on the market. They have been used by many of the top pros and are considered the secret weapon of many players.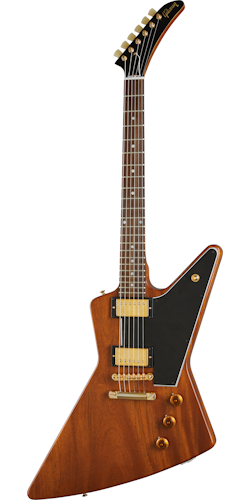 Moderne model
The 1958 Gibson Moderne was a space-age guitar that was intended to follow the Explorer and Flying V models that had just come out. The Moderne, however, met with mixed reviews and was ultimately discontinued. The Moderne is extremely rare and is considered one of Gibson's most distinctive guitars.
The moderne was produced only in a small number. The first model was a prototype that never went into production. The Moderne was later reintroduced in 1982 and was first sold to Howard Leese, an early Gibson employee. Leese eventually sold one to his guitar tech, making a tidy profit from it. Since then, however, Gibson has refused to produce the Moderne again.
Korina body
The 1958 Gibson Explorer Korina body is a classic tonewood that brings a focused midrange tone to the guitar. The Korina body also gives the guitar a comfortable feel and lends itself to heavy rhythm playing. The instrument also features a one-piece Indian Rosewood fingerboard and a 12-inch radius.
The Korina body is a distinctive and highly sought-after guitar in the Gibson Custom Historic Collection. Introduced in 1958, this guitar is one of the rarest Gibsons ever made. It was initially a controversial design, but it began to gain acceptance years later. Only 19 originals were produced, making this model highly collectible. It features the classic Korina body shape and a black pickguard.
The Gibson Explorer's distinctive look was first unveiled in the 1950s as an experimental design. This model was built in a single batch and was commercially released in 1958 and 1959. In 1983, Eric Clapton acquired an Explorer and played it at an ARMS concert in London.
In addition to its classic look and sound, the 1958 Korina Explorer features a nitrocellulose lacquer finish, a thinner finish than polyurethane. This allows the guitar to breathe and enhance its tonal quality. The 1958 Korina Explorer is a beautiful instrument that is sure to last a long time.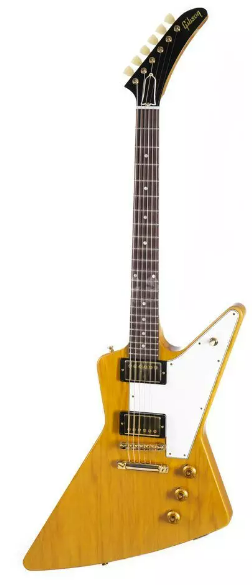 1958 Gibson Explorer Price
Those who wish to purchase a 1958 Gibson Explorer are advised to shop around. Prices of these guitars tend to rise over the years. The last Explorer was sold at Skinner's auction house in 2006 for $611,000 US. The price of these guitars has been growing at about a rate of ten percent per year.
Unlike the earlier Explorer, the Explorer II was made from 1979 to 1983. It featured three single-coil P-90 pickups and an alder body. It also featured factory-painted graphics. The Explorer was available in clear, burst, and standard tuning machines. It was marketed with a high-end sound and a thin neck.
The Explorer was a revolutionary electric guitar when it was introduced in 1958. Its futuristic body design was a radical departure from Gibson's standard designs.
The prototype of the Explorer was referred to as the Futura. Its initial run of production was short-lived, as it failed to attract many buyers. However, after the success of Hamer Guitars with similar designs, Gibson began reissuing the Explorer. In the 1970s and 1980s, it became popular with heavy metal and hard rock musicians.
Despite its modern aesthetics, the 1958 Explorer is an excellent guitar. It has a slim taper neck and an all-mahogany body. The guitar features two custom-made pickups – a single coil and a floating bridge. These pickups have a balanced sound and volume that makes them a timeless classic.
1958 Gibson Explorer specs
[wpdataaccess pub_id="10″]
Who Played a 1958 Gibson Explorer?
Until recently, there was no standard lineup for the Gibson Explorer. It was discontinued several times but was reintroduced in the late 2000s as a limited edition model. Then, in 2016, it was brought back as a standard model. Now, you can find it among the many popular models of the guitar.
Les Paul
The first Explorer guitar was introduced in 1958, and it had a similar design to the Flying V. But it had an expanded waist and split headstock. This guitar was never a hit. It was soon abandoned and Gibson began assembling leftover Explorers to get rid of them. The guitar's headstock was slightly oversized and the tuners were oversized as well.
Later, it was sold to a private collector, and in the early 1980s, it wound up in the hands of guitarist Kunio Kushida, a guitar collector from Japan. Later, he sold it to a musician who happened to be a friend of Allman.
After the Explorer was discontinued, Gibson made several copies of the guitar. The Explorer was also made as a semi-hollow-body electric model. The Explorer's name is derived from Gibson's initials, and it's also the first Gibson to use a single-coil pickup. The Explorer's body is made of mahogany, while the neck and bridge are made of maple. The Explorer's sound is very unique and has a rich tone.
The 1958 Explorer guitar is a classic model. Today, many guitar companies make replicas of this model. However, this model is no longer considered a violation of design. Gibson is very careful about letterhead styling and the outline of the guitar's body. The result is a guitar that is an icon in music history.
Gibson engineers had to make a guitar that would be competitive against Fender's Stratocaster solid-body electric guitar. However, the Fender strayed away from Les Paul's original vision. Therefore, Gibson developed the Flying V as a response. It was the first Gibson guitar to feature a sunburst finish and the first semi-hollow/solid hybrid guitar. Gibson also released a special double-cutaway model and a Les Paul Jr. model.
A 1958 Gibson Explorer has many differences from the modern Explorer. Its design and construction are very similar to the Explorer but have a different tone. It has three single-coil P-90 pickups and an alder body. It also features factory-painted graphics. The Explorer II was also produced by Gibson between 1979 and 1983.
Gibson's 1958 Korina Explorer Reissue also has a 12-inch fretboard radius. This gives it a comfortable feel for playing chords without muting while making it ideal for single notes and bending. However, since everyone's hands are different, it's important to try a guitar for comfort and balance before making a decision. A guitar with a thicker neck may be too big or too small for you.
In 1958, Gibson had just 19 Explorers made. However, since then, this guitar has become immensely popular. Gibson has recreated the original Explorer's original features and added a few modern features, including Gibson's Custombucker pickups. The instrument also has a hardshell case for protection.
Elvino Rey
The American guitarist Elvino Rey played a 1958 Gibson Explorer. Rey was an early adopter of the electric guitar, playing it on numerous film soundtracks and exotica albums. His instrument included a carbon-thread microphone that was used to hear his wife sing along with the lyrics. The instrument quickly became known as the "singing guitar".
The 1958 Explorer model was one of the first guitars to be produced by Gibson. Its angular body and hockey stick headstock gave it a futuristic appeal. It was discontinued after the early 1970s but was later reintroduced as a standard model. Today, the Explorer has become one of Gibson's most popular guitars.
The Explorer series produced a total of twenty-five models. Each guitar featured an alder body with two humbuckers, a maple neck with a rosewood fingerboard, and gold-plated hardware. The Explorer series also featured Korina body styles and a locking nut vibrato system. The Explorer series of guitars had a lot of features, but was not a hit, with only twenty-five being made between 1958 and 1959.
The Explorer was developed alongside the Flying V in the late 1950s. Metallica's James Hetfield was a fan of the Explorer's simplicity. Its ebony-wood body and two humbuckers allowed for sustain and grit. The Explorer was reissued in the late 90s and early 2000s by Gibson.
Lynyrd Skynyrd co-founder Allen Collins
In the early years of Lynyrd Skynyrd, Allen Collins used a black Gibson Flying V but eventually switched to the '58 Explorer. Collins purchased the Explorer from Eric Clapton in 1976 and it quickly became his go-to instrument. Gibson paid tribute to Collins' influence and produced a limited edition of 100 Explorer replicas in his honor.
Collins used his 1958 Gibson Explorer to write songs and tour around the South. In the early 1970s, he was married to Kathy Johns. She worried that his long hair would disturb her parents. The couple's wedding reception featured the first public performance of "Free Bird" and a trademark extended guitar jam. Their family soon expanded with the birth of daughters Allison and Amie. Allen Collins had a love affair with cars and would drive his 1958 Gibson Explorer around the countryside in his spare time.
The guitar was also used on several recordings, including "The Old Grey Whistle Test" and "Free Bird". The guitar is still playable and sounds just as good as it did before the band's breakup in 1976. It retains its original Gibson case and includes an original backstage pass from various shows. Despite its age, the guitar is in excellent shape and has been accompanied by a collection of photos and autographed memorabilia.
He had several instruments, but a 1958 Gibson Explorer was his main stage instrument. He used the Explorer for live shows and recorded live albums. After he completed mixing the live album, Collins switched to the Explorer and it became his main stage guitar. This change was made when the band's original guitarist, Gary Rossington, quit in November 1976.
In addition to the Explorer, Allen Collins loved playing the Firebird. He used his '58 Explorer for solo shows, and he even modified it to sound better. This 1958 Gibson Explorer was his primary guitar for several years.
The 1958 Gibson Explorer was made of alder with three single-coil P-90 pickups. It had a maple neck and bound-figured maple top and was alternately known as the Explorer CMT or E/2. It could be equipped with either a standard tune-o-Matic bridge or a Kahler tremolo.
In 1958, the Explorer was released and was widely marketed as a futuristic guitar. In the same year, Gibson also introduced the Flying V, another guitar with a futuristic design. Although the Explorer wasn't a commercial success, it was later re-issued and became very popular with rock and heavy metal musicians.